WordPress for Your Business Website: Think You Know WordPress? Think Again.

WordPress. You've heard the name, but just how much do you really know about it? Are you questioning whether you should use WordPress for your business website? If you've ever found yourself thinking it's nothing more than a free blogging tool, or that it wouldn't look out of place amongst the likes of Wix and Squarespace then allow us to introduce you to the world's most popular content management system (CMS) properly.
WordPress started in 2003 as a blogging tool and came about as an evolution of a platform known as b2/cafelog. It has become the most popular CMS—almost 60% of CMS users use WordPress—powering over a quarter of the internet.
With large corporations like Vogue and Microsoft using WordPress for their websites, some of the bad press it gets is a little unfair.

WordPress powers small to large business websites. But how exactly does it work? What is a CMS and why is WordPress the best choice for your professional website?
We'll cover all of this and more. Navigate to a particular section of the blog via these shortcuts:
Nobody Professional Uses WordPress for Their Business Website. Do They..?
So, Why Use WordPress for a Business Website?
What is a CMS?
Put simply, a CMS helps you to manage your website's content.
A CMS provides a user-friendly visual interface which bridges the gap between the database and what visitors to your website actually see when they land on a page. It allows website owners and content writers to manage the website content without messing around with any of the website code. It also allows consistent layouts and templates without duplicating bits of code, such as the header and footer—which are usually consistent across the website.

Without even knowing, the chances are, every website you have ever used has been powered by a CMS of one form or another. Almost anyone within your organisation can use a good CMS. Meaning you don't need to employ an experienced developer just to keep your company website up to date once it has been built. A huge benefit to the WordPress framework!

CMS capabilities aren't unique to WordPress, though.

Other CMSs include the likes of Umbraco, Joomla and Drupal. It's also possible for developers to build their own CMS using various programming languages, but a custom-built CMS is typically very costly and can extend development time considerably. Bringing us to another tick in the WordPress box. Why would you reinvent the CMS wheel? WordPress can cater to all your content management needs more cost-effectively, in a format that can be easily learnt and in considerably less time.

The money saved could also allow you to invest in other important areas of the business like marketing, for when you need to tell the world about your new website.
CMSs vs Website Builder Tools
The main difference between the out-of-the-box website builders like Wix and a CMS is that website builders are very limited in terms of the actual content and the flexibility to manage the type of content.
With a CMS you can have different content types. For instance, a blog post, a page, a case study and a testimonial to name a few. These could all be classed as different types of content that you may put on your website. Templates are then dynamically populated using the content.

To give a practical example, using a website builder, a testimonials page is just that—a page with testimonials on it. The webmaster (I bet you haven't heard that term in a while!) would simply type up new testimonials whilst they edit the page.

On the contrary, with a CMS, a testimonial is an actual type of content. Meaning each testimonial is its own self-contained post. These testimonial posts are then retrieved from the website's database. The posts are used to populate custom page templates designed and built by your chosen web design agency.

This is helpful when it comes to consistency.

Let's say, you want a set of pages with case studies and on each case study you want to include a related testimonial. You also want a separate page of all testimonials elsewhere on your website. These are the different ways those pages would be built using a CMS versus a website builder tool:

The Page Builder Route
If you're using a page builder, you'd need to create a separate page for each case study. You'd have to type the testimonial out on this page.
Great, that's taken care of our case studies, but what about our separate page just for testimonials?

Well, you'd need to create another page for your testimonials. Typing all of the testimonials out again, even though they've already been written on the case studies.

Let's say you then decide to have a testimonials slider somewhere on the homepage—you'll have to type the same testimonial out again.

We think you get the point. Anywhere you want testimonials, you'll be adding them in manually.

This increases the likelihood of error and inconsistency. Oh look, you've made a spelling error on one of your testimonials; you'll need to go through each page individually to see if you've made the same mistake on them as well.

Each testimonial is being saved in multiple places. With a CMS, as you'll see below, each testimonial is saved in a single place. The CMS calls on the database to return a testimonial as and when needed, from that single place.

The CMS Route
With a CMS, this process is much more streamlined.

Testimonials can be made as a content type, as can case studies. If you decide you want to move your testimonials or place them on a different page, you can simply pull them from your database instead of re-entering them.

When your website is designed and created, your developer should map out which content types are needed and where they will be displayed. This not only saves you time in the long run, but also improves consistency, ultimately improving the perception of your brand.

9 out of 10 web agencies listed on page 1 of Google for the search term "Web design agency London" use WordPress.

Accurate as of 15th January 2019
WordPress vs Other CMSs
It's a given that there are plenty of other CMSs out there. We're not talking about the website builder tools like Squarespace and Wix (as above), but rather the likes of fully-fledged CMSs such as Umbraco, Drupal and Joomla.
Most CMSs are designed to be modified to work for the website. I.e. a blank CMS would need customising to support the various content types.

Keeping in line with the above example: a website with a blog section, a case studies section and testimonials would need the following content types created:
Pages
Blog posts/articles
Case studies
Testimonials
Each CMS has their unique name for content types. In Umbraco these content types are called Document Types. They're called Custom Articles in Joomla. Drupal calls them Content Types, and WordPress calls them Post Types.
In some CMSs there are no default content types, which means everything needs to be set up from scratch. Some CMSs, however, come with pages and posts as predefined content types, WordPress is one of these, meaning that the initial get-go is slightly easier.

Once again saving you time and money.

As you might expect, custom-built CMSs can be very powerful tools and can support enterprise-sized applications, but they come at quite a significant (enterprise-sized) cost compared to WordPress.

Custom CMSs also take much longer to build, and (most) developers would hesitate to work on them if they aren't the original developer who set it up—this is due to the unnecessary complexity involved.

Nobody Professional Uses WordPress for Their Business Website. Do They..?
You could be forgiven for thinking so. After all, WordPress markets the blogging version of their CMS quite heavily, but the belief that WordPress isn't best for business websites is actually a WordPress myth.
The truth is, there are two versions of WordPress:

WordPress.COM, and
WordPress.ORG.
WordPress.COM: For the Hobbyist
This is probably the version of WordPress you're familiar with, and the one which is often seen as "that free blogging tool".

WordPress.COM caters very well to those who have no need employing a professional website design and development agency and who are happy to dabble with building their own website. Think design student looking to showcase their portfolio.

Much like websites built on Wix or Squarespace, WordPress.COM websites come with a number of restrictions and caveats.

Firstly, it's not possible to have a custom domain name. You're given a subdomain which looks something like this: mywebsite.wordpress.com, unless you sign up to a paid membership plan.

Secondly, WordPress display their ads and branding on your website and whilst you can remove the ads by upgrading to a paid account, you can't remove the branding unless you pay for the most expensive package they have.

Additionally, WordPress.COM websites have a very limited theme selection and restrict you from uploading your own custom theme. They are also hosted by WordPress, meaning you don't get a choice of host and have no FTP access. To top this off, there is limited SEO support and analytics are basic.

In short, WordPress.COM is very much a no-frills out-of-the-box solution.

WordPress.ORG: For the Professional
The version of WordPress you might not be so familiar with is WordPress.ORG. WordPress.ORG is for small to large business websites.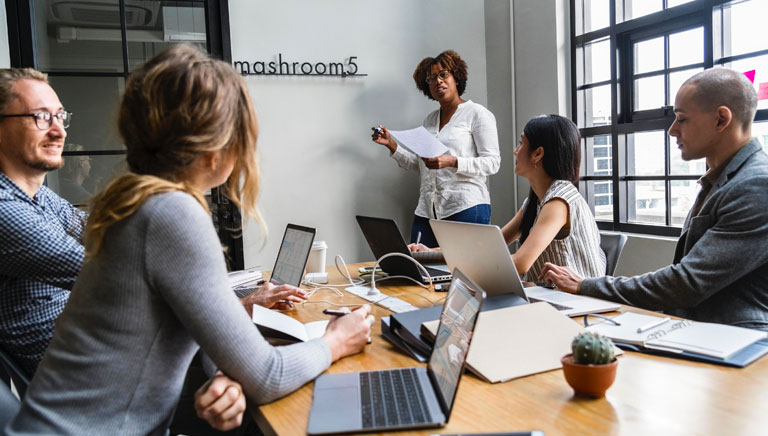 It may have a lot of the same foundational code as WordPress.COM. In fact, it's exactly the same CMS, but all of those restrictions and caveats are replaced with full access to some incredibly powerful tools. Which allows you to use WordPress to its full potential.

It's possible to sculpt pretty much any kind of website with WordPress.ORG.

The skill level required increases significantly with this version of WordPress, so you'll need to know what you're doing; but that's where a professional web development agency, like Forty8Creates, would come in.

WordPress.ORG gives you or your developer the ability to upload custom themes. Whilst there is no shortage of pre-built WordPress themes out there, most professional website development companies will custom-build themes for their clients.

Client tip: Always make sure to ask whether you are getting a pre-built or a custom theme.
There really is no substitute for a website that has been designed specifically to cater to the needs of your target audience, the goals of your business and the functionality required for a smooth user experience.

Additionally, a paid WordPress.COM installation typically requires you to download and install a string of plugins to add functionality to your website. These plugins not only need to work together seamlessly but also need to adhere to WordPress coding standards to ensure that your website operates at peak performance.

This is particularly challenging when you consider there are thousands of plugins readily available, each built by different developers with varying coding abilities. A WordPress.ORG website doesn't have to be built this way.

An experienced WordPress developer doesn't have to depend on a library of pre-built plugins to add functionality to a website, they can simply create their own custom functionality. This is where WordPress.ORG outshines its .COM counterpart.

The other great thing about WordPress.ORG is that you can host it yourself so you're not too reliant on a server that's out of your control. Our partners over at Timpani handle all of our hosting needs—they specialise in WordPress hosting.
So, Why Use WordPress for a Business Website?
Whilst it may have started primarily as a blogging platform, WordPress quickly became a stable CMS for websites as the code behind it is well written, easily accessible to developers and easy to adapt.
The fact that it is so user-friendly makes it ideal for websites. It also has a massive community of developers constantly making improvements to it.

WordPress customisation options are endless.
If it has been set up correctly, it's almost as easy as using a word processor. Developers find it easy to work with and content writers and business owners find it easy to add and edit content. We also provide training sessions to our clients as part of the process when we have finished making their website.

People tend to dismiss WordPress as the best CMS for their business as they might have had some bad experiences with it. Critics seem to continuously write, post, blog and tweet their rants and raves about it.

Google it if you don't believe us (seriously, do a search for "WordPress disadvantages").

Others, can't seem to get enough of praising it!

We're here to break down the WordPress myths and help you understand if WordPress is the right option for your business website.

WordPress Myths
Here are some common myths you may come across if you actually went ahead and Googled "WordPress disadvantages":
1. WordPress Themes Don't Suit My Brand
Okay, this one is partially correct.

Most of the off-the-shelf themes will not suit your brand, as they aren't made to suit your brand.

They're made as a quick and cheap solution to try to suit all brands. That's why we create our themes from scratch, tailored for your brand.

Which is why we're still holding this as a myth. You can create any theme you want for it!

2. WordPress Websites Are Too Slow
This is again due to the belief that an off-the-shelf theme is a one-size-fits-all solution.

The more complex a website is or the more advanced functionality there is, the slower it will load because of the amount of code that gets processed.

Good WordPress developers build websites, especially business websites, with minimal plugins and only the required code present and processed—down to an individual page level.

On the contrary, with an off-the-shelf theme, the developers include code that may never be used by the website, but may still be loaded. This is because the developer of the theme isn't aware of the specific website requirements and try to include resources just in case the user would like to make use of them.

For example, an off-the-shelf theme may allow the user to select one of 50 (or more) fonts. Where in reality, a typical website may only have up to three different fonts. This is just the tip of the iceberg, though. There are often many more complex and resource-hungry functions baked into an off-the-shelf theme that you'll likely never use.

3. WordPress Sites Look the Same
This isn't actually WordPress' fault. We agree designers tend to follow trends, and this is usually a good thing as it keeps the web consistent.

Good website designers and developers still create their own templates based on design trends, though. So, there should be a level of individuality to all websites.

Take a look at the WordPress.org showcase and you can see how different these websites are, to judge this WordPress "con" for yourself.
Whilst your new website can be as easy as installing WordPress, buying an off-the-shelf theme, installing a few plugins and uploading content to where the theme allows you to, it's not what we recommend.

The off-the-shelf themes may work for some businesses where the look and feel of the website isn't crucial. Say for instance, a small startup, or a company with very limited funds. Bear in mind, though, the theme was created by somebody who doesn't know much about you. Let alone about your corporate identity, the services you provide or the best user experience for your customers.

The theme is made with a one-size-fits-all frame of mind. This, coupled with the fact that the theme not being specifically made for your needs, is why most modern websites all look very similar. Some of these themes are also mass-made meaning that corners may have been cut to speed up the development time. As a result, they may be prone to bugs or issues.

4. WordPress Needs Frequent Updates
In essence, this is actually a good thing.

Given that it is the most common CMS, WordPress does become a target for malicious attacks. Which in turn means that it needs to be secure. The fact that it needs updates frequently shows there is a team of developers actively working on keeping it secure.

It's also worth noting that even if a part of the WordPress code does become compromised, the chances of your website suffering, as a result are pretty slim.

In order to exploit any vulnerability in your website's code, the attacker would need to specifically target your website/server. Given that WordPress powers around a third of the internet (approximately 75,000,000 websites!), it's very unlikely that your website will be singled out.

To top that off, the vulnerability would need to be exploited before it's spotted and patched by the thriving community who maintain WordPress' code. Because WordPress.ORG installations are self-hosted, unlike WordPress.COM, an attack on one WordPress.ORG website wouldn't affect another WordPress.ORG website.

5. WordPress Websites are Not Secure
Okay, so this goes hand-in-hand with the point above (WordPress needs frequent updates). So long as the websites are kept up to date and security measures are in place, this risk is marginally reduced.

Unfortunately, it's a game of numbers—the more common a specific system is, the more inclination the 'baddies' have to hack it. You can read more about WordPress security and how to minimise the risks on another of our blog posts.

As you can see, most of these myths are due to poor use of WordPress, not the functionality of WordPress itself.

Pros of Using WordPress
Now that we've explained the reasons why people think WordPress is a bad fit for your business website, here's a list of pros of using WordPress, and why we choose WordPress for our clients.

1. Built In SEO (Search Engine Optimisation)
Having a website with no SEO efforts whatsoever is similar to printing off the weekly run of newspapers or newsletters only to throw them all away without any effort to distribute them. A waste of time.

After you've built it, you still need to drive people to your website.

WordPress is very SEO friendly and by default, plays nicely with guidelines set out by search engines like Google and Bing. There are also many plugins that assist in SEO efforts. Our favourite is the Yoast plugin, due to the simplicity involved in maintaining page and blog post attributes such as the title and description. It also provides helpful tips and hints on how to further optimise a page or post.

2. Easy Website Management for Anyone on Your Team
The backend of WordPress is easy to work with, even for non-technical people.

Different Post Types (see above for an explanation on Post Types) are set out on the side of the screen. Content writers simply go into one of these sections of the backend and there they can add, view, edit or delete content.

These posts are automatically pulled through to the relevant section on the frontend of the website once the user clicks save or publish. In the screenshot below, on the left of the screen, you can see the links to the various Post Type sections: Posts, Services, Clients, Testimonials and Pages.

From the screenshot above, you can see there are other settings aside from the Post Type sections in the left hand sidebar. How easy it is to manipulate the website may initially scare some people, but WordPress has set precautions through user capabilities. The different type of users allow you to have the entire team in the backend, but with different capabilities for each team member.

With user capabilities, you can have Authors, Editors, and Admins. Authors can only add, edit and delete their own blog posts. Editors can add, edit and delete any blog posts–even those not written by them. While an Admin can do everything an Editor can, as well as manipulate all of the post types, manage plugins/themes, edit code, make site-wide changes and add or delete user accounts.

With these different levels of access, it's very unlikely a user can break anything or cause any serious issues.

The screenshot above was taken from an admin account, and we recommend only having a few of these accounts in your organisation.

3. You Can Schedule Posts
WordPress has a built-in post schedule function.

This allows content writers to insert content to be posted at a later date. It makes it much easier to manage time, as you can upload content in bulk and schedule when it will be published.

4. There's a Massive Community
Given that almost 60% of CMS users use WordPress, there is a large community of users and developers. On occasion, a developer might get stuck with something or require a second opinion. A quick web search can bring up resources. On even rarer occasions, if there are any issues or problems with WordPress, you're only a web search from finding someone else who encountered the same problem, and how they resolved it.

As WordPress is aimed at ease of development and customisation, the WordPress documentation is well written.

The more users a system has, the wider it is supported. This also goes with developers. If a website is built by an experienced WordPress developer, it can be handed over to another experienced developer to work on with a minimal handover process. With some of the more bespoke CMSs, there is a chance it won't be supported by as many developers. This often leads to an unnecessary expense due to the exclusivity.

Sometimes, exclusive isn't the best.

5. Easy to Maintain
Aside from the updates, WordPress is relatively low maintenance, once it's all set up and running.

WordPress also has an auto-update setting where plugins are updated automatically. However, we always recommend manual updates as you can check for incompatibilities by taking a look at the website after updating it. Incompatibilities are rare, and usually only occur after major updates. If you have your website backed up, it can be easily rolled back to a previous version too.

WordPress has some pretty neat backup plugins available (some with scheduled backups), and some hosting providers provide their own backups as part of the hosting package—please do check with your hosting provider.

There are also no ongoing subscription costs (aside from the domain and hosting).

6. Site Ownership and Portability
A WordPress.ORG installation is yours under the GPL license (more on that GPL license here). It is free software available for anybody to use, reuse and modify.

The actual software is stored on a server that you have control over. You may need to pay for hosting on the server and a domain, but the software itself is not based on an element of subscription. Some other website builders could potentially limit what is actually yours and what isn't. Meaning you could even lose your website and content if you don't pay or renew the subscription.

Because the software and the database behind the software are accessible via your hosting account, you have the freedom to get them migrated. Say for instance, if you have issues with your hosting provider such as slow server response times. With WordPress.ORG, you are not tied down to a single hosting provider, unlike some of the website builder tools out there who limit you to host it on their servers.
7. Constant Improvements
We mentioned this before in this blog post, but WordPress is constantly being added to and updated, to improve security and to add extra features. The last major addition was the Gutenberg editor. The Gutenberg update makes WordPress even more user friendly.

8. Cost of WordPress vs Page Builders vs Custom CMSs
The costs involved in setting up and maintaining a website is a crucial deciding factor for many businesses and organisations around the world.

Too cheap, and you'll get something that was rushed and probably not quite fit for purpose.

Too expensive, and you might be paying for more than you need.

A WordPress installation with a custom theme and functionality is somewhere in the middle. We always liked the middle.

Since WordPress.ORG is tailored to your needs, you won't be paying for fancy extras that you won't need or use. It's easy to manage content on it too. A lot of the time businesses have in-house content writers and marketing managers handling the day-to-day of the website. With WordPress, they easily can. Meaning no ongoing cost of employing your web developer every time you want to make changes to the content or upload a blog post.

9. Custom Themes for a Light Website Backend
Custom themes not only mean an aesthetic match, but also a lighter backend to your website.

By custom designing your website, the functionality is exactly what you need.

We exclusively build websites through WordPress (we have around 15+ years experience with WordPress between us). This is because we can extensively customise it to suit your exact needs—be it a brochure type of website, eCommerce website or a magazine style blog.

We strive to use as few plugins as needed, giving our websites more security and an impressively fast load time (Why is a fast website important?). Plus, without the plugins, there's less that can break your website. Win-win all round.

Not only does this make your website "lighter", meaning there is less to load, a custom theme also means it's unique to your website needs. Our themes are made specifically for your website to match your page designs.

Plus, our hosting partners ensure your website is backed up and the WordPress version is up to date. This negates the disadvantages that people point out—giving you ease of use and hassle-free content management.
The Bottom Line
Here at Forty8Creates, we use WordPress a little differently than others may.

We don't believe in re-inventing the wheel, especially at the expense of our clients. We'd rather use the time designing the most aesthetically pleasing website, creating an excellent user journey and drafting the best digital marketing strategy.

That's why we get WordPress to do the heavy lifting, and what it's good at—content management. Our handmade themes are adapted to your needs, custom scripts coded to give you the functionality needed. We strive to have all of our work rated A on Yellow Lab Tools.

If you still don't believe us, take a look at our portfolio to see the awesome sites we have created using WordPress.

If you want to look even further to see what is possible with WordPress, check out the WordPress archives to see the awesome things other people have created using WordPress. Amongst them are Sony Music's and Network Rail's websites; yes, both created with "that free blogging tool"!

Do you have a WordPress website? What are your thoughts?

If you are unsure on whether WordPress will work for you, get in touch, and we can talk you through it.