New Website Design and Development: History Bombs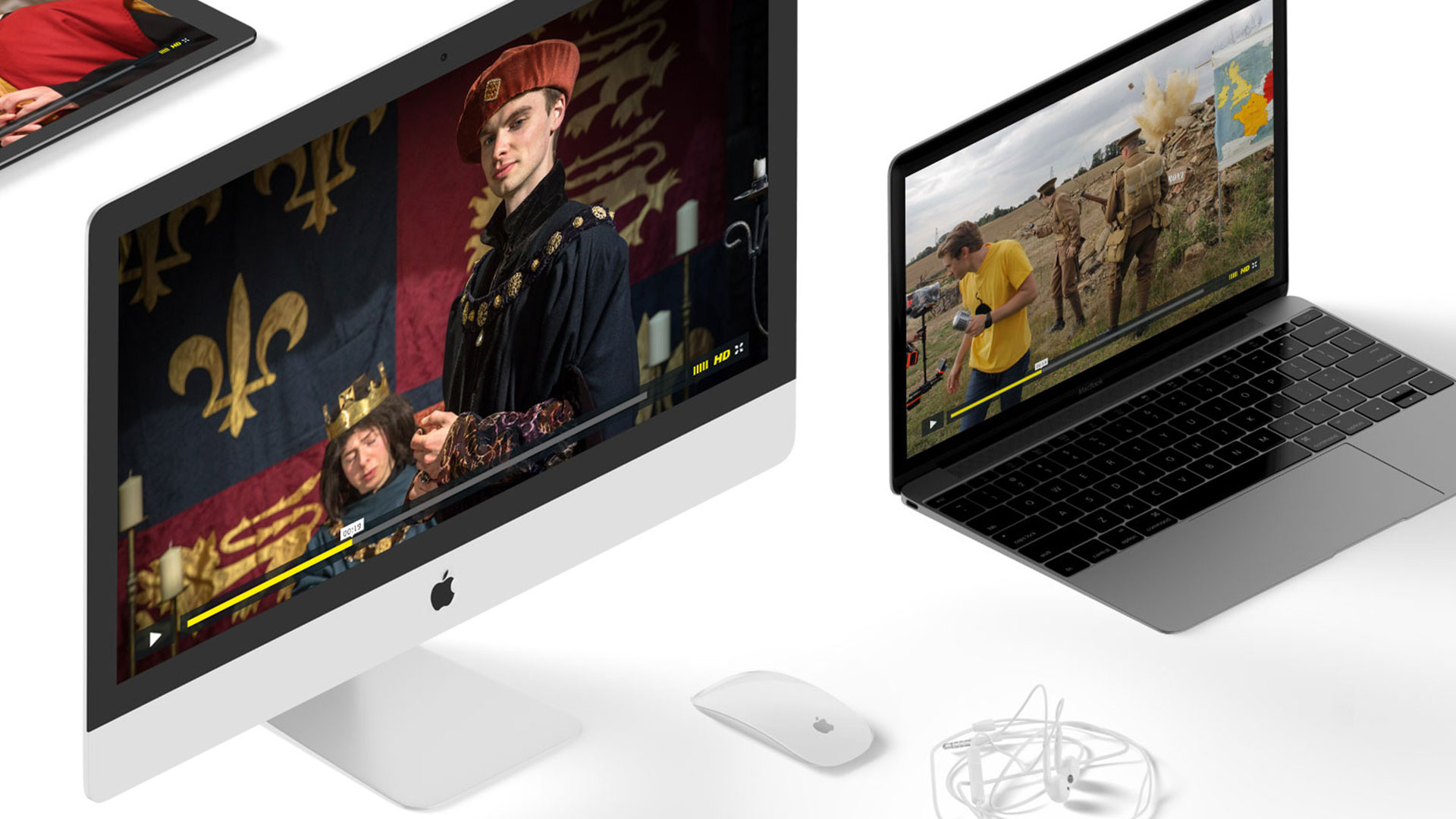 History Bombs new historical website.
The Client: Who They Are
History Bombs takes a new spin on education.

As a BAFTA-winning education company, History Bombs provides short video clips explaining powerful, sometimes explosive, moments in history. From World War I to the Cold War to the Industrial Revolution, their videos cover the essential history topics. The action-packed videos are a new spin on history and are usually filmed in just one take!

As their work expanded, and they received more and more feedback from teachers, History Bombs offered their videos and lessons through Teachable—a learning management system (LMS).
History Bombs needed a new website to attract teachers and demonstrate the asset History Bombs videos and lessons could be in their classroom while also integrating with the Teachable LMS.

Forty8Creates Work: What We Did
Website redesign and build
Activity sheets for courses
PR and brand awareness
Website Redesign and Development
History Bombs is an asset for history teachers everywhere, opening up a new way for them to teach. To appeal to teachers and to ensure their videos could be integrated into lesson plans, History Bombs is Ofsted approved. To further appeal to teachers and be an asset as well as a partner, History Bombs developed lesson plans—with their videos playing an integral role. The lessons are grouped by different events in history. They include the explosive videos and accompanying activity sheets and are available to purchase on Teachable.
Developing a better teacher experience:

Forty8Creates redesigned the website to be as engaging as the videos History Bombs produces but also provide insight into how teachers can utilise them as an additional resource in their classroom. To create an easy-to-use web experience, the website had to connect with Teachable, seamlessly integrating as to not disrupt the user experience.

Rich media was a large part of the website redesign. The History Bombs educational videos becoming a focal point of the website. The educational videos also provided additional content and an interactive element to the website.

After the design was finalised, Forty8Creates developed the website to be responsive—no matter the device.
Graphic Design: Print Collateral
Meanwhile, our graphic design team carried the look and feel of the website through to History Bombs coursework. Forty8Creates designed the Teacher's Handbook full of the activity sheets and lessons for the teachers.

The lesson plans and activity sheets were designed to be easy-to-follow and straightforward documents. History Bombs' corporate colour is yellow, and it was utilised as an accent color throughout the documents to highlight what was included in the lesson and the topics covered.

PR & Expand Brand Awareness
Forty8Creates help launch History Bombs being offered as a teacher aid through increased brand awareness and reach. After their BAFTA win, we ran PR to capitalize on the achievement, with History Bombs featured on London Live.
Learn more about Forty8Creates work with History Bombs.